HREAO Event Recap: 2014 Year-End Northern California Real Estate Panel
Nixon Peabody, LLP, 1 Embarcadero Center, 18th Floor, San Francisco, CA 94111. Thursday, Nov 6th, 2014 at 6:30pm.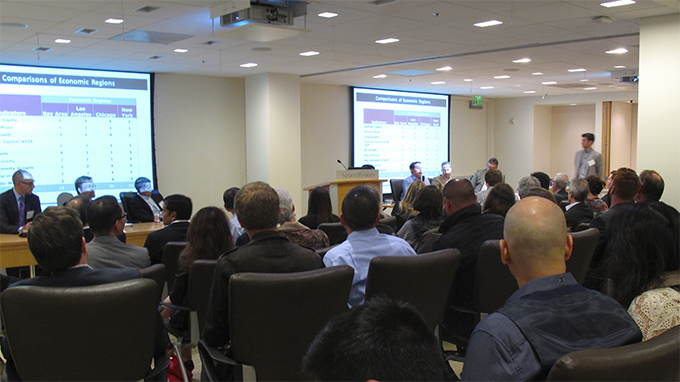 EXECUTIVE SUMMARY
Admist the confluence of a robust tech industry rooted in the Silicon Valley and an extensive BART system across the bay, the Harvard Real Estate Alumni Organization, Yale Club of San Francisco, and Dartmouth Silicon Valley hosted a year end panel discussion event on November 6th, 2014 at Nixon Peabody, LLP in San Francisco, to discuss the evolution of the Bay Area real estate market in selected asset classes in the midst of a multitude of new multi-family development and adaptive, re-used commercial buildings in the region. The event was moderated by Macy Leung of HREAO and sponsored by Dartmouth SV and the Yale Club of SF, and had more than 100 registrants. A stellar panel of alumni developers and economists provided insights into the recent market recovery post recession across all asset classes in Northern California, a market driven by high housing prices and a large tech industry presence, and the opportunities for more high density residential multi-family and commercial, mixed-use development in the region. The panelists also discussed specific correlation with other asset classes/investments (public and private), innovations that are emerging or needed, market cycle resilience, the role of international capital flows in driving competition and transaction volume, and how investors/developers are approaching their respective asset classes differently post-2008, fiscal/economic/development impact and subsequent regional economic development.
HREAO introduced Noel Bejarano of Waypoint Homes, who has been purchasing a large portfolio of single-family distress homes similar to Blackstone's recent market strategy. Noel discussed the distressed housing rental market as a result of the recession, the viability of the rental housing market strategy, and the market sustainability of single family residential distress market in the long term.
In contrast to Waypoint Homes, Trumark Urban focuses on Class A, high density, market-rate condominium development in the heart of San Francisco. As an affiliate of Trumark Companies, Arden Hearing discussed several of the firm's up-coming 150+ units residential projects that cater to the Gen Y/professional urbanites in the City, and is optimistic the bay area market will continue to support high-density, for-sale residential development in the foreseeable future.
Michel Feldman of PSAI Realty Partners, who had raised $100 million + in investment funds and purchased more than 50 office and research and development properties in the Silicon Valley since 2002, shared insights regarding the general office market performance in the Silicon Valley and the Bay Area in the current market cycle.
Having been with Hines in China and Australia for two decades before returning to the U.S., Rob Hollister joined The Sabrato Organization, a family-owned company active in real estate for the past half a century. His international experience in emerging markets provide a broad perspective in the office development process and discussed the importance of local community stakeholders and policies influence in the regional office development and acquisition projects.
Jonathan Sharfman of Universal Paragon Corporation, developer, owner, and operator of mixed-use retail projects in San Francisco, shared insights of key conditions and factors that drive the success of mixed-use development projects, including the mix of uses, importance of design, and maximizing density in the development.
In the hospitality sector, Anwar Elgonemy of San Francisco International Airport Hotel. explained important evaluations of the hotel market segment's strength in the bay area, driven by constant tourist and visitors. Anwar explained market matrices such as RevPAR, vacancies, ARM that measure hotel performance, and product types that evolved according to current generation of visitor characteristics.
In assessing the current market cycle recovery and future impact of these developments in the Bay Area market, Doug Svensson of Applied Development Economics addressed the underlying fiscal and economic implications of the regional economy driven by development of these different product types. He further indicated the quality of life, and the region's economic health is comparably stronger than other markets, given the strong industry base and quality of life.
The panelists engaged the audience by asking their likelihood of investing in the bay area market, and whether they think San Francisco will eventually exceed New York's financial industry. The audience concluded the panel discussion with Q and A, and asked the panelists if they have $1 million today, which sector they would invest in. Each panelist suggested either mixed-use, residential, or office development, and Anwar mentioned he would invest in parking structures in San Francisco.
---
MODERATOR
Macy Leung (Moderator), HREAO.
PANELISTS
Anwar Elgonemy (Hospitality) - Associate Deputy Airport Director, San Francisco International Airport Hotel. (GSD AMDP)
Noel Bejarano (Single Family Homes) - VP of Portfolio Management, Private Capital, Waypoint Homes. (College)
Arden Hearing (Multi-Family Homes) - Managing Director, Trumark Urban. (GSD)
Jonathan Scharfman (Mixed-Use) - Development Director, Universal Paragon Corporation. (GSD)
Rob Hollister (Commercial) - President, Sobrato Organization. (Dartmouth)
Michael Feldman (Office) - Managing Director, PSAI Realty Partners. (Yale)
Doug Svensson (Land Use Economics) - President, Applied Development Economics
---
Thank you to Yale Club of San Francisco and Dartmouth Silicon Valley committee members for arranging and co-organizing the event for alumni, organization members, attendees, and guests. And thank you to the Urban Land Institute of San Francisco, American Institute of Architects in San Francisco, SPUR of San Francisco, Harvard Club of San Francisco and Silicon Valley, Columbia Business School Alumni Club of San Francisco, and Penn Club of Northern California for marketing and advertising the event.