HREAO Event Recap: (RE)COVERY: Real Estate Market Recovery and Emerging Trends 2012
The Standard Hotel, 550 S. Flower Street, Los Angeles, CA 90071. Saturday, Dec 8th, 2012 at 1:00pm.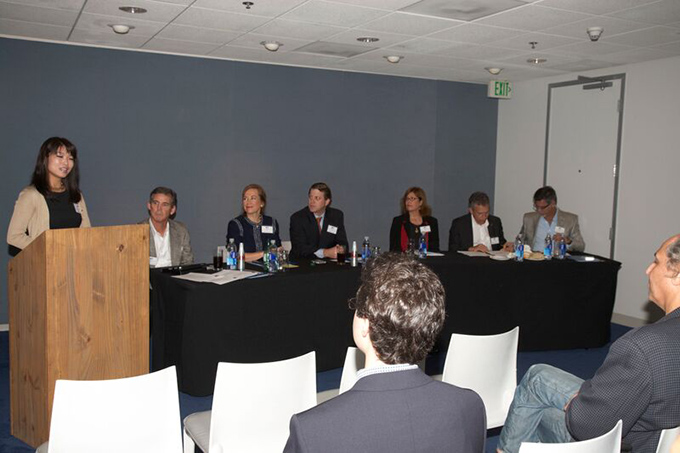 EXECUTIVE SUMMARY
The first annual Real Estate Emerging Trend panel discussion, sponsored by the Harvard Real Estate Alumni Organization, took place at a Saturday afternoon at the Standard Hotel in downtown Los Angeles on December 8th, 2012. The panel discussion is the first of the events series hosted by Macy Leung, Harvard Club of Southern California, Harvard Business School of Southern California, and the alumni association. Professor Richard Green, Director and Professor Chair of the USC Lusk Center for Real Estate had graciously agreed to moderate, but due to last minute personal circumstances, one of our panelists, Fred Cordova of Colliers International, had moderated the event and shared with the audience perspective on each asset classes and individual market performances in the nation and overseas
Our panelist consist of experts in development, architecture and planning, sustainability, real estate, and the government. Fred began the discussion mentioning it had been 5 years since the economy entered into a recession, and while some mentioned the economy is recovering, other mentioned there will be a fiscal cliff in the near future that affect the capital market and investment perspective, which subsequently impact development and the built environment.
Jonathan Segal, FAIA, of Jonathan Segal and Development Company, shared his experience in starting a development company as an architect over two decades ago, and the design perspective he has in development as an architect-builder. The firm continued to do excellent urban mixed use development in San Diego and have recently won the 2013 Distinguished Award of the AIA.
Michael Lehrer, FAIA, of Lehrer Architects and former president of AIA in Los Angeles, shared his design principles regarding the upcoming design trends of micro units and residential apartments that cater to the Gen Y and Millenial population. His recent architectural design include a range of programming and uses, and continue to create design focused on urban centric living.
In support of the design and development projects, Judi Schweitzer of Schweitzer and Asscociates mentioned the sustainable land use development requires a rigorous process by CEQA and other EIR analysis to evaluate cost benefits of implementation for sustainable tool that yield the most saving. She proposed sustainable tools will play a dominant role in all future planning and development projects.
From a development perspective, Greg Cullen of Harvard Real Estate Investment spoke of the recent recession period in the market and the impact on development. Greg purchased a portfolio of distressed homes at below market value and projects the market recovery will begin in the near future.
From the government's perspective, Mary Gardill of the Division of Capital Asset Management for the State of Massachusett spoke of the recent large-scale public and private partnership projects in the State of Massachusett. The availability of funding continues to support these type of development while the State provide public funding for these projects.
As the event came to a close with Q and A, Fred provided an overview of the market trajectory and mentioned that transaction volume is low, with a tremendous amount of capital for little product. However, low interest rates are expected to remain and economy are waiting to catch up since the recession in the next few years.
---
MODERATOR
Fred Cordova (Substitute)
– Executive VP, Colliers International, former president of HBS Association of Southern California. (HBS)
Professor Richard Green (Real Estate Economics) – Director and Professor Chair, USC Lusk Center for Real Estate. (College)
PANELISTS
Jonathan Segal, FAIA (Development and Architecture) – Founder, Jonathan Segal and Development Company. 2013 Distinguished Award Recipient American Institute of Architects California Council.
Michael Lehrer, FAIA (Architecture and Planning) – Principal, Lehrer Architects. Former president of American Institute of Architects LA, Director, Harvard GSD Alumni Association Council Chair. (GSD)
Greg Cullen (Single Family Residential) – CEO, Harvard Real Estate Investment. (HBS)
Judi Schweitzer (Sustainability) – CEO, Schweitzer and Associates. ULI Sustainable Council. (GSD AMDP)
Mary Gardill (Public Private Partnership) – Project Manager, Division of Capital Asset Management for Commonwealth of Massachusetts. (GSD AMDP)
---
Thank you to Dr. Richard Chang, the Harvard Club of Southern California, the Harvard Business School Alumni of Southern California, Columbia Business School Association, Urban Land Institute of Los Angeles, the USC Alumni Association, and the UCLA Alumni Association for sponsoring and marketing the event.