Architecture and Coffee with notable Architect Edwin Chan of EC3, former Design Partner at Gehry Partners
Sponsored by HREAO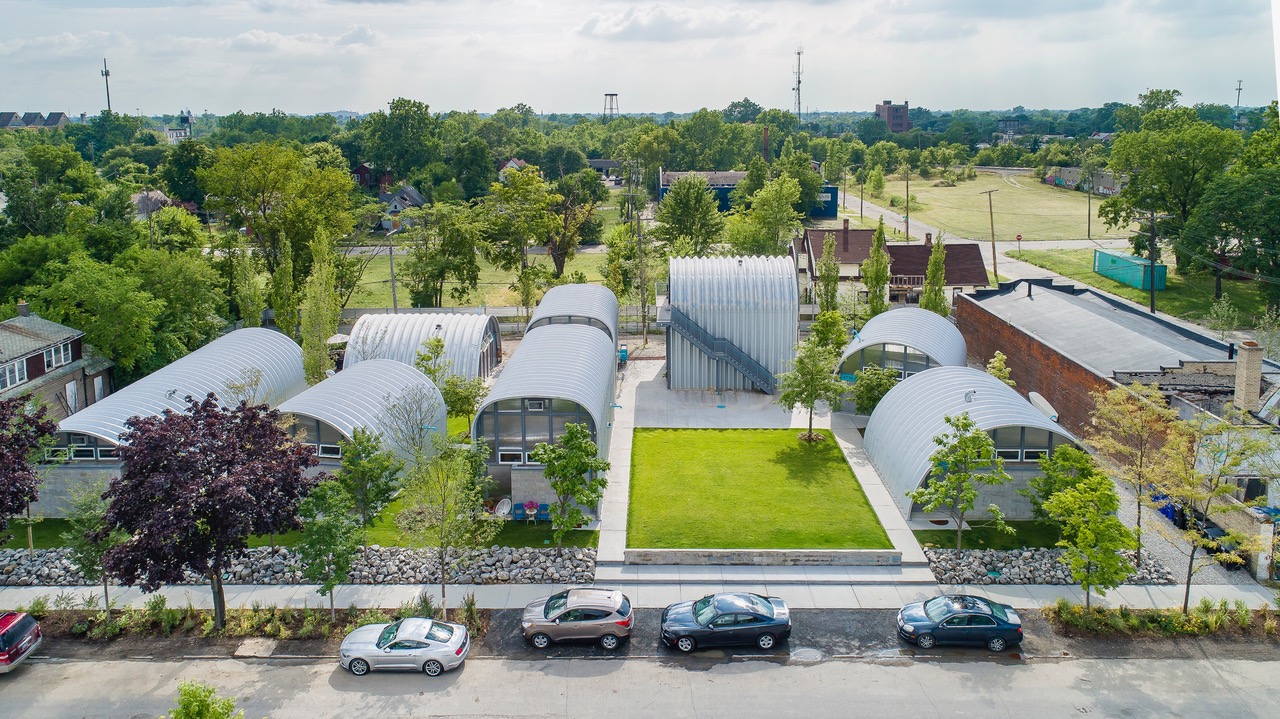 Project: True North, Detroit
---
Sponsored by the Harvard Real Estate Alumni Organization
Saturday, November 9th, 2019, 12:30 - 2:30 PM
Location: 6007 South St. Andrew Place #4, Los Angeles, CA 90047
$20 at the door event registration fee.
Registration 12:30 – 1:00pm
Speaker 1:00 – 2:30pm
Networking 2:30
Advance registration required.
---
DESIGN AND BRUNCH:
On behalf of the Harvard Real Estate Alumni Organization (HREAO), we'd like to invite you to a brunch and presentation by architect Edwin Chan in his office, EC3 (http://www.ec3.us/view-now/200/0). Edwin will share his behind-the-scenes design process and his firm's architectural work. Questions and discussion, and an informal networking social follows.
Among several projects presented by Edwin will be True North, Detroit. One of Detroit's most talked about projects, True North bridges the gap between real estate development and community building, fueled by creativity and open-mindedness. EC3 was approached by the young New York-Detroit based developer Prince Concepts in Spring 2016 with the task of reimagining the pre-fabricated Quonset Hut structure. The site, a 0.57 acre plot located two and a half miles from downtown Detroit, is situated in a quiet, spacious neighborhood which had not seen new construction in over sixty years. The new live-work community is comprised of nine rental units, a community lawn, shared gardens, and costs under $1 million. EC3's approach recognizes the importance of respecting the scale of the surrounding houses and buildings while achieving a strong architectural identity. Their design reflects a creative use of the pre-determined form in its site design, programming, interior organization and diversity of units, ultimately fulfilling the client's goal to bring something new and affordable to Detroit.
---
ARCHITECTURE:
EC3 is a cross-disciplinary architecture and design studio founded by Edwin Chan, an architect whose prominence and experience in architecture arose working as a Design Partner at Gehry Partners for twenty-fve years, where he led iconic, award-winning projects in Hong Kong, Spain, USA, Switzerland, Denmark, Germany and France. EC3's team designs diverse building types with a passion for arts and culture, as well as an the intersection of architecture and landscape. Working internationally, EC3 embraces the diverse context, scale, environment and culture of each site and program, rigorously collaborating with client and multi-disciplinary consultants to achieve architectural and technical innovations across scales. The frm's projects have included urban master plans in Istanbul, Turkey and Dresden, Germany; True North, an award-winning live/work community for creatives in Detroit, USA; three major exhibition designs in Los Angeles, Dallas and Miami, USA; a private residence for French art collectors in Los Angeles, USA; a mixed-use tower in Bogota, Colombia; and proposals for large-scale mixed-use cultural & civic buildings in Shenzhen, China and Dallas, USA, among others. The work of EC3 is published worldwide and has received numerous design awards, including Final list of Mies Crown Hall Americas Prize (MCHAP); 2017 Best Multi Residential Project Winner of The Architect's Newspaper; Honorable Mention, 2017 Progressive Architecture P/A Award of Architect Magazine and so on.
---
SPEAKER:
Edwin Chan received his Bachelor of Arts from the College of Environmental Design at UC Berkeley, and Master of Architecture from the Graduate School of Design at Harvard. After graduation, Edwin joined Frank O. Gehry & Associates in Los Angeles; and has collaborated with Mr. Gehry as Design Partner on many of the firm's most significant cultural and institutional projects, including the Guggenheim Museum in Bilbao, Spain, and the Foundation Louis Vuitton in Paris.
In 2013, Edwin launched his independent architectural and design studio - EC3. Based in Los Angeles, EC3 is founded on the principle to Empower Cross-disciplinary Collaboration in Creativity and embraces a vision for professional practice that transcends culture and geography. The studio draws from Edwin Chan's extensive experience in arts and cultural program; and engages in projects at all scales from urban design, institutional and cultural buildings, to exhibition designs and sculptural commissions.
Edwin Chan has lectured both in the US and internationally and has served as visiting professor of architecture at the Harvard Graduate School of Design, the University of Southern California in Los Angeles, UCLA, and was appointed the Howard Friedman Professor of Practice at UC Berkeley in Fall 2012. EC3 and Edwin Chan have been recognized with numerous awards and distinctions, including the honor of Chevalier de l'Ordre des Arts et des Lettres from the Republic of France, winner of a 2017 Progressive Architecture P/A Award, and most recently named one of six finalists for the Mies Crown Hall Americas Prize (MCHAP) 2018. Edwin Chan is licensed in California and New York; and is fluent in English, Chinese (Cantonese), and French. He has travelled to all seven continents.
---

Any questions? Please contact Macy Leung, National board member of Harvard Real Estate Alumni Organization at macy.m.leung@gmail.com.
Buy ticket below or Pay at door event fee: $20 for all members.
MagnetWidget::Event Dashboard