The Harvard Real Estate Alumni Organization (HREAO) Webinar Series :
Navigating The Stormy Seas - COVID-19 And Impacts On Development, Construction, Financing of Affordable and Multifamily Housing
---
The HREAO Webinar Series invites real estate industry experts to lead an interactive forum on specific top-of-mind topics and to share their perspectives on the real estate sector—including various trends, strategies, and insights, as well as to answer your questions.
---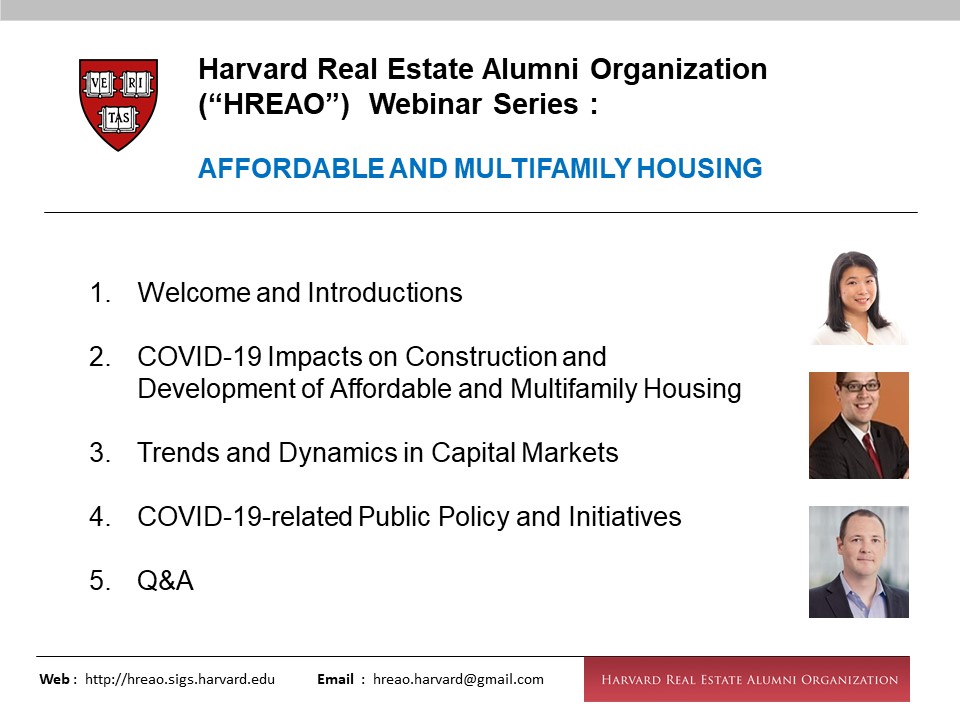 Sponsored by the Harvard Real Estate Alumni Organization
Date : Wednesday, May 6th, 2020
Time : 10:00AM PST / 1:00 PM ET
Event : Free
Advance registration on HREAO's website required.
Location : Join Zoom Meeting. Meeting ID and Password will be shared after Event Registration. HREAO Webinar Link via Zoom
---
Please join the Harvard Real Estate Alumni Organization for a webinar on the impacts of Covid-19 on the development, construction and financing of affordable and multi-family housing. Our program will discuss the progress of ongoing multifamily mixed-income and affordable developments in the construction stage and the predevelopment stage, the reactions of the marketplace to the Covid-10 pandemic, federal, state and local government relief efforts and strategies for navigating these challenging times and continuing with the development process. Our panel will cover in particular social distancing measures in the construction process, force majeure and insurance issues, IRS guidance regarding LIHTC transactions and federal government relief efforts for multifamily mortgages, the applicability of the paycheck protection program to real estate development, etc. and include time for Q&A and general audience discussion.
1) Construction & Development
Affordable housing as "essential construction"

Development cycle, social distancing, construction pricing – Status of development project (Affordable Housing / Permanent Supportive Housing), development in the midst of COVID-19/social distancing, impacts on AFH tenants. Developer's creative uses of converting other asset classes for AFH.

Force majeure & insurance issues
2) LIHTC/Capital Market
Tightening of investor requirements & IRS guidance

General impact on financing and pricing

Regulatory relief
Requirements/relief for federally-insured multifamily mortgages

Paycheck Protection Program relief (or not) for multifamily residential companies (including affordable housing providers/owners/property managers)
3) Conclusion
---
Speakers and Bio:
Macy Leung (GSD '11)

Eamon Lorincz (JD '09)

David Lewis (GSD '09)
Macy Leung
Macy develops affordable housing and Permanent Affordable Housing at a large non-profit organization in the San Francisco Bay Area. She is committed to the bettering of individual's lives and to advance the community. Macy had previously served as a Senior Associate at a large regional Affordable Housing Firm, on its CDFI/Affordable Housing Equity Fund that focused on acquisition, development, and disposition in the West Coast, and led the firm's Legislative Policy Group. She had also served as the Executive Vice President for a real estate private debt/equity fund, and financed mixed-use, creative office, and hotel development, and managed all firm and project activities. Prior to that, she worked as a Senior land use Economist, and evaluated fiscal and economic impacts of land use changes, Housing Elements, General Plan and Specific Plan, and Long-Range City and County-wide economic policies and economic development strategies. Macy is appointed and serves on a local City's Design Review board and serves on the ULI Steering Committee. Macy serves as an advisory board member of the several organizations, and lectures at the Harvard Graduate School of Design and the University of Illinois at Urbana Champaign on Affordable Housing Design and Development. She graduated from Harvard's Graduate School of Design (MDesS'11) in Urbanization and Housing (Real Estate Finance and Development) as the elected Class Marshall and has a master's in architecture and a BA. in Economics.
Eamon Lorincz
Eamon Lorincz is the lead transactional counsel for the Housing Opportunities Commission of Montgomery County, a combined housing authority and housing financing authority with an active pipeline of over a billion dollars of development and rehabilitation transactions, and has primary responsibility for legal matters relating to HOC's real estate transactions. Mr. Lorincz has over ten years of experience in commercial real estate representing investors, developers and lenders with a focus on real estate equity investments and loan financing, affordable housing, tax credits, public-private partnerships and joint ventures. In this capacity, he has negotiated, structured and closed billions of dollars in commercial real estate financing and investment. Prior to joining HOC, Mr. Lorincz worked at a boutique affordable housing law firm and at a large international law firm. Mr. Lorincz holds a Bachelor of Arts and Sciences in International Relations and Environmental Science, summa cum laude, from the University of Pennsylvania and a Juris Doctorate, cum laude, from Harvard Law School, where he served as a member of the Harvard Legal Aid Bureau. Eamon has served as a panelist, guest lecturer and author on commercial real estate finance and affordable housing topics.
David Lewis
Dave Lewis is a real estate attorney at Goulston & Storrs who focuses his practice in commercial real estate developments and transactional matters. He assists clients in the development of mixed-use, multi-family, retail, office, hospitality, renewable energy and professional sports projects in Washington, D.C. and other major urban markets nationwide. In his transactional practice, Dave works with large institutional clients, including national REITs acquiring and developing properties in large urban markets. He also handles leasing matters for retail and office properties. Dave is an advisor on a range of topics related to shopping center and multifamily development, often serving as local counsel for both buyers and sellers of commercial properties.
For his land use clients, Dave handles a broad range of entitlement, zoning, permitting, development and historic preservation for projects across the District of Columbia. Dave represents clients of all sizes in front of regulatory and governing agencies in the District, including the Zoning Commission, the Board of Zoning Adjustment, the Historic Preservation Review Board, National Capital Planning Commission, and the Commission of Fine Arts, as well as a range of neighborhood and community organizations.
Macy serve on the Board of Directors of the Harvard Real Estate Alumni Organization (HREAO). Eamon and David are co-chairs of the HREAO Washington DC Steering Committee.
Please register here to participate in the program, which is an exclusive event for members of the Harvard community.
Although the session will have a live Q&A, attendees are asked to submit their questions ahead of time.
Space is limited. Please note that this event is "off-the-record".