Small Business & Our Neighborhoods: Reflections on community, resilience and innovation
---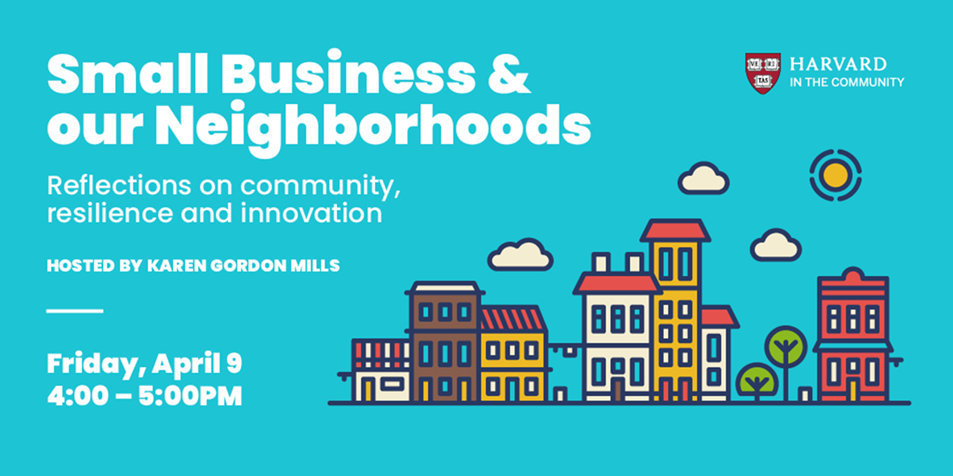 Event Title:
Small Business & Our Neighborhoods: Reflections on community, resilience and innovation
Event Date/Time:
Friday, April 9th, 2021 4-5pm (approximately 1 hour)
Event Description:
Running a business under the most ideal conditions is difficult. 2020 has brought on a host of previously unthinkable challenges for business owners, their employees, and the communities that support them. While the coronavirus pandemic has tested the entire business community, restaurants, shops, and companies in Allston-Brighton and Cambridge have offered countless examples of how creativity, resilience, and coordination are helping to preserve the vibrant mosaic of businesses that characterize both communities. Featuring representatives from small businesses and nonprofits, this panel discussion will examine how the local small business community has managed over the past eight months and consider what the future will look like. 
This one-hour panel will be hosted digitally; to register please visit this link. There will be time for questions toward the end of the event; you can submit a question when you register or ask your question during the event through Zoom's Q&A feature.
Opening Remarks:
Ayanna Pressley, U.S. Representative for Massachusetts's 7th congressional district
Panel:
Karen Mills, Harvard Business School Senior Fellow; former Administrator, US Small Business Administration
David Maher, President & CEO, Cambridge Chamber of Commerce
Aidan McDonough, Executive Director, Brighton Main Streets
Rachel Miller Munzer, Big Dipper Hospitality; owner/operator of State Park, Mamaleh's, Café du Pays/Vincent's Corner Grocery
Joseph Charles, owner/operator of Rock City Pizza
Registration:
https://harvard.zoom.us/webinar/register/WN_zC_yf8PbRzCRoPnK-YPmkg
MagnetWidget::Event Dashboard